In the current digital era, a well-designed website is a crucial tool for both businesses and people. As your brand's internet shop, it represents you, spreads your message, and interacts with customers. But creating a website that works well demands meticulous planning and taking into account a variety of aspects.
This thorough guide will examine the essential factors to take into account when formulating a website design, with special emphasis on the value of expert website design services..
Factors to Consider When Planning a Website Design: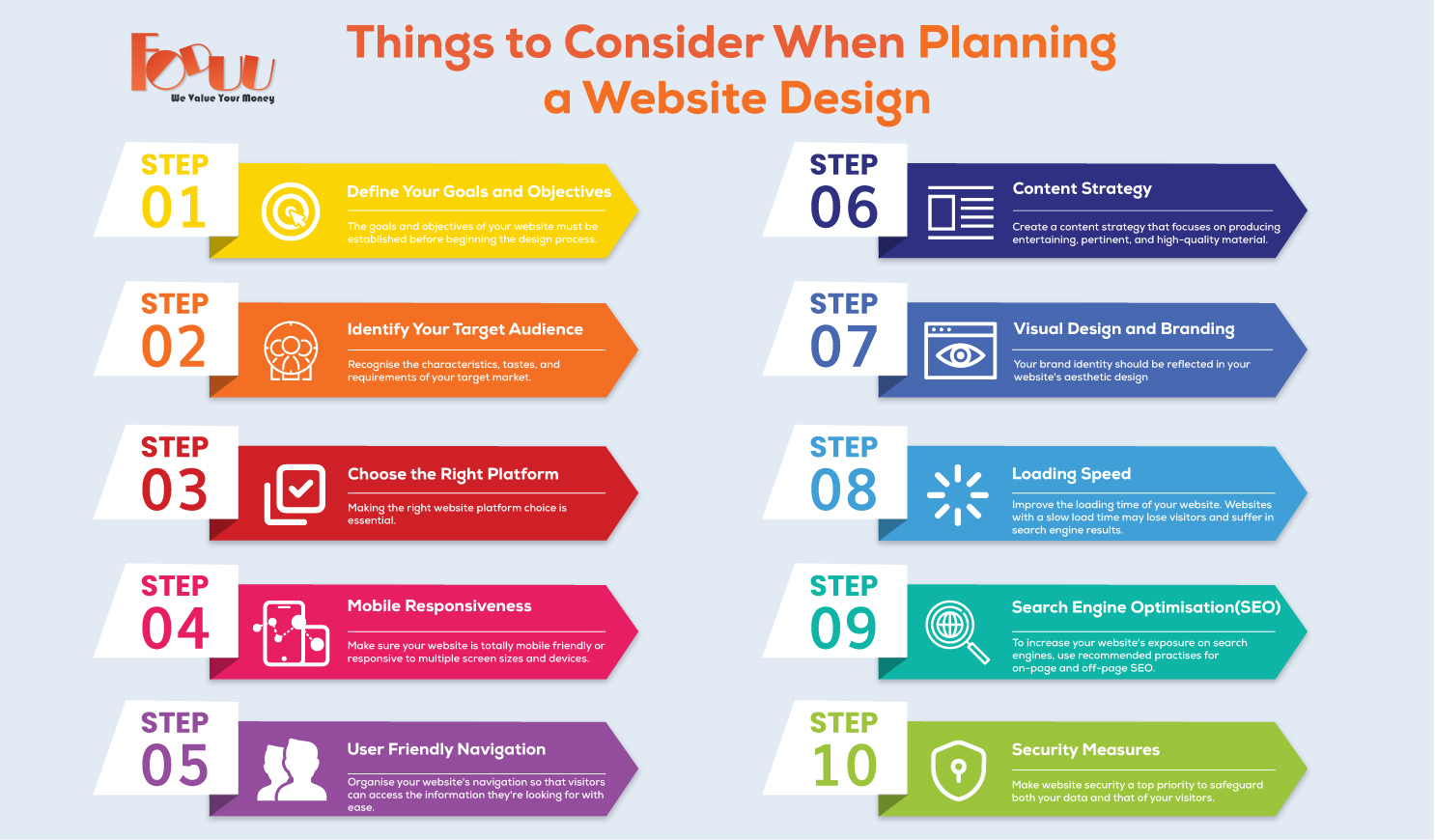 # Define Your Goals and Objectives:
The goals and objectives of your website must be established before beginning the design process. What are you hoping to accomplish with your website? Is it used to promote your portfolio, sell goods, gather leads, or disseminate knowledge? The whole design process will be guided by clear objectives.

# Identify Your Target Audience:
Recognise the characteristics, tastes, and requirements of your target market.Your website will successfully engage users and interact with them thanks to a user-centric design strategy.

# Choose the Right Platform:
Making the right website platform choice is essential. WordPress, Drupal, and Joomla are a few examples of Content Management Systems (CMS) that offer a variety of plugins and themes along with flexibility and ease of use. Select a platform based on your technical proficiency and long-term objectives.

# Mobile Responsiveness:
Make sure your website is totally responsive in a world where mobile devices are the norm, automatically adjusting to multiple screen sizes and devices. For the user experience and search engine results, mobile responsiveness is crucial.

# User Friendly Navigation:
Organise your website's navigation so that visitors can access the information they're looking for with ease. The user experience is improved by a menu with clear titles and a logical flow of material.
# Content Strategy:
Create a content strategy that focuses on producing entertaining, pertinent, and high-quality material. On the web, content reigns supreme and is crucial to drawing in and keeping site visitors.

# Visual Design and Branding:
Your brand identity should be reflected in your website's aesthetic design. Establishing brand recognition and trust requires using consistent colour schemes, typefaces, and images. A coherent and aesthetically attractive design may be ensured by working with a reputable Indian website design firm.
# Loading Speed:
Improve the loading time of your website. Websites with a slow load time may lose visitors and suffer in search engine results. To improve performance, compress pictures, enable browser caching, and reduce unused scripts.

# Search Engine Optimisation(SEO):
To increase your website's exposure on search engines, use recommended practises for on-page and off-page SEO. It also covers backlink building tactics, meta tag creation, and picture alt text.

# Security Measures:
Make website security a top priority to safeguard both your data and that of your visitors. For safe communications, use SSL certificates, make sure your software is up to date, and use reliable authentication techniques.
# Call-To-Action:
Include CTAs on your website that are both clear and enticing. Effective CTAs direct user actions, whether they are asking users to subscribe, get a quotation, or buy something.
# Social Media Integration:
Utilise social media by adding sharing buttons and showing your feeds. Your internet reach is increased and this promotes social interaction.
# Analytics and Tracking:
Use analytics software such as Google Analytics to monitor visitor behaviour, website performance, and conversion rates. Continuous performance optimisation of your website is made possible by data-driven insights.

# Testing and Quality Assurance:
To find and fix any problems, thoroughly test your website on a variety of browsers and devices. To make sure your website runs well, regularly update and maintain it.
# Accessibility Compliance:
Make sure that everyone can visit your website, including those who are disabled. A more inclusive web presence is guaranteed by adhering to accessibility standards (like WCAG).
Conclusion:
Planning and attention to detail are essential when creating a website that successfully conveys your message, engages your audience, and accomplishes your objectives. You can build a website that not only fulfils your current demands but also positions you for long-term success in the digital world by taking into account the elements listed in this article.
Are you planning to design a website for your business? Contact FODUU, a leading website design company based in India. In today's digital age, an online presence is essential, and that's where we come in. We specialize in designing websites and apps that not only look beautiful but also increase leads and sales.