If I ask you, what is the first thing that comes to your mind when I say chocolate? Cadbury Dairy Milk isn't it? Of all the chocolate brands in the world, including the ones you like, Cadbury holds a special place not just because of its taste but because of the beautiful calligraphic representation of the word which is of course the logo of the company. This is just an example of the importance and impact of a powerful eyecatchy logo, how it can effect the reputation of a business and how it can make your brand memorable. 
In this article we will discuss about:
Table of Content
The Latest Logo Design Trends 2022
Elements of a Good Logo Design?
What can a Logo do for your Business?
Statistics Showing the Importance of Brand Logo for Your Business
Why you need a Logo for your Business?
Qualities of an Effective Logo
Importance of Hiring a Professional Logo Designing Services
What do you mean by a Logo?
A logo combines words with graphic elements- images, shapes and colors for two distinct functions. It provides the company name to the public and produces a visual representation of your brand.

There are a few elements that should work together to establish your distinct style when choosing how to design a logo. While some logos only use a few components, others use them all. It's critical to be familiar with all of these concepts regardless of which one you decide to incorporate into your logo in order to make the greatest decision for your company.
Learn more: What is Logo Design?
Elements of a Good Logo Design?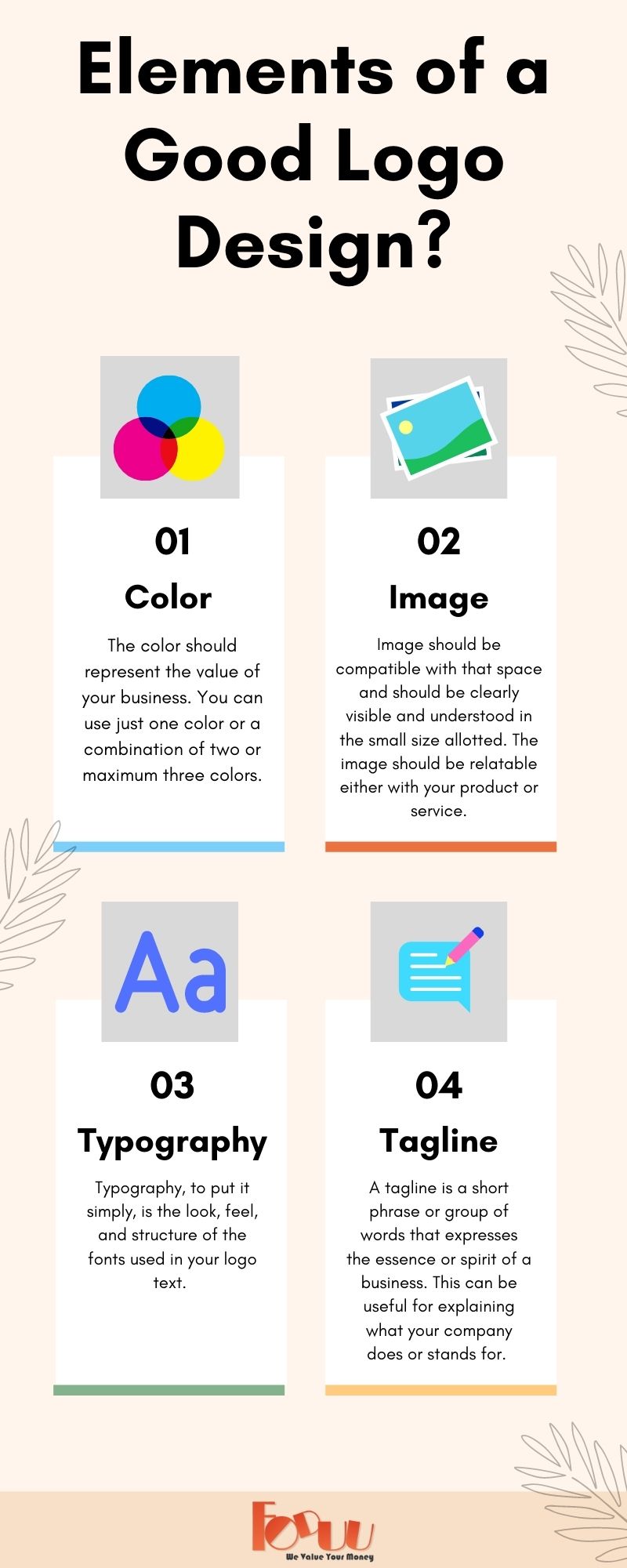 Color - Choosing the color of your logo does not mean choosing any of your favorite color. The color should represent the value of your business. You can use just one color or a combination of two or maximum three colors. But the color should be decided after discerning the psychology of your audiences. Bright colors usually signify peppy products like red color for the coca cola brand. For products related to babies or woman soft colors should be taken into consideration. On the contrary if your business deals with men, you can use colors as bold as black. Metallic variants give the logo a contemporary and polished look.
Image - Before deciding about the image, you need to understand that your logo gets the top left corner small place as its position. So your image should be compatible with that space and should be clearly visible and understood in the small size allotted. Also the image should be relatable either with your product or service and if not with both of them, then atleast with the brand name like the bird in Phoenix company logo.
Typography - Typography, to put it simply, is the look, feel, and structure of the fonts used in your logo text. To produce a memorable logo design, letters can be positioned differently, stacked on top of one another, turned around, or in many other inventive ways. Here, designers must keep the positioning and appearance of the characters consistent. Overall, one has the option of using a monogram, one letter (such as an initial), or the complete brand name.
Tagline - A tagline is a short phrase or group of words that expresses the essence or spirit of a business. It typically appears beneath or around a logo. This can be useful for explaining what your company does or stands for. Taglines are not a need for all logos, but they can create a statement, communicate your brand's message, and raise brand awareness.
The Latest Logo Design Trends 2022
Well, this was a basic explanation about what a logo basically consists of. But with the changing time and trends, the logo designing has also changed absorbing latest trends and innovation. Some of the modern logo design trends include:
Retro logos - As the name suggests, these logos include the touch of old times. These kinds of pictures will endure for years to come in order to transform an important idea or a mundane, time-worn concept into a brand-new, captivating, and visually appealing illustration.

Blurred logos - Sounds strange. You must be wondering how an unclear thing can help you define your brand so clearly. It's very compelling and unforgettable to create a blur effect for your logo, and it embraces the opportunity to include animation.
Stretched characters - In order to create a sense of limitlessness and infinite space, designers are also experimenting with stretched and continuous letters. This certainly broadens the idea that type can be expressive for brands even further. There will be a lot more interest and visual variety when personalised typography is incorporated to really delve into deeper meanings for brands. It can be to emphasize on a particular letter of the brand logo or distort any word to signify something. 
Logo with scribbles and sketches - This is yet another strange trend but emphasizes on keeping the logo design simple in its core. Expect to see more scribbles in 2023. As opposed to the cleaner, more "manufactured" logos you've seen in the last several years, expect to see more logos that have that raw, unfinished appearance. This fashion is unpolished yet refined and straightforward.
Bold letters - This can be to give the logo a dynamic look and making it more noticeable and clear. 
Layering and overlapping -  Logos with layered elements will become one of the most popular logo design ideas in 2022. Designers are experimenting with geometric shapes, fonts, and colour combinations to produce vintage logos with a modern twist.
Shaping typography — There are two types of these logos: those in which the typography dominates the imagery and gives the logo an emblematic shape, and those in which the typography is nested within the imagery and gives the imagery structure and shape. These logos demonstrate how text and graphics may coexist together.
What can a Logo do for your Business?
A miniature art (logo design) can give so much credibility to your brand and make your product and service so reliable. This is the power of LOGO. A well designed logo can give your brand a strong recognition, gives a good first impression, makes you stand out in the crowd and give you a competitive edge. Still not convinced, let's take a look at the following statistics.
Importance of Brand Logo for your Business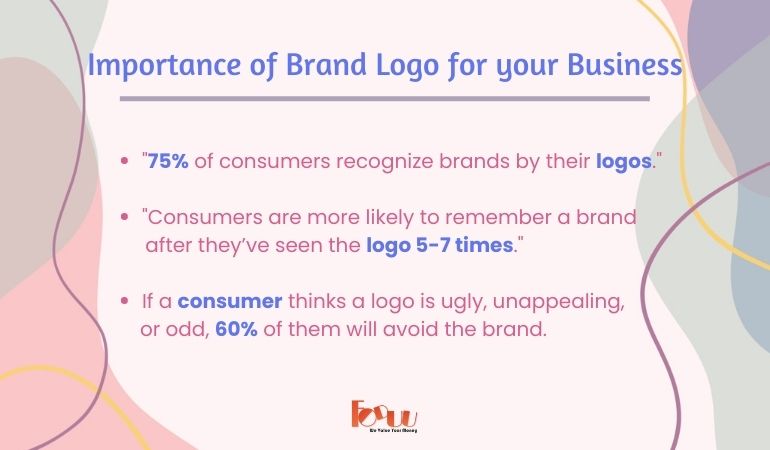 "75% of consumers recognize brands by their logos."
"Consumers are more likely to remember a brand after they've seen the logo 5-7 times."
If a consumer thinks a logo is ugly, unappealing, or odd, 60% of them will avoid the brand.
Why do I need a Logo for my Business?
A logo can be used as your branding tool in various places like your company website, business card, products, packaging, merchandise, emails, newsletters, campaigns, social media or any other internal assets. Having a logo is as important to building a successful business as having high-quality items and enthusiastic recommendations.
A logo attracts attention
A company's basic beliefs can be interestingly communicated through a logo, which can rapidly capture visitors' attention. If you have a strong logo to represent your business, that short attention span—you know, the one that makes customers judge your establishment by its appearance—can work to your benefit.
Gives a good first impression 
The opportunity to get this properly is only once.
A company's logo serves as its first contact with customers. It can spark the public's curiosity and entice them to learn more about the business if it is thoughtfully developed. Using this first impression, you can express right away that you are the proprietor of the product(s) you offer or the niche you control.
Forms the base of your brand
Simply put, conveying a tale that will affect buyers' emotions is the key to successful branding.
Although a company's logo is only one aspect of its brand, it forms the basis for the complete story that the brand is based on.
The story you're trying to tell will dictate the colours, tones, and fonts you use, and your logo sets the scene for this story.
Later, these components will appear in all of your branding products, including letterheads, business cards, landing pages, and more, creating a clear, marketable brand identity.
An unforgettable branding tool
Customers use logos as a point of identification; they use them as a symbol to recognise your brand. In an ideal world, you want people to immediately associate your company's logo with memories of what it does and, more importantly, how it makes them feel.
Because a good logo is a visually appealing aspect, it helps people remember your brand in a favourable way that the name of your business might not.
And let's be honest, some of your audience may forget the name of your company, but they will instantly connect your logo with the memories they have of your brand.
Gives you a competitive edge
Dare to be different with your logo because it communicates to customers what makes your company special.
Through the use of the perfect image or appropriate font, a well-designed company logo may convey anything from the company's background (professional, laid-back, fun) to its objective (entertainment, efficiency, and innovation).
In other words, your logo is a platform for expressing your principles and demonstrating to them why you're better than your rivals.
Earns credibility and loyalty for your brand
A wide range of consumers will become increasingly familiar with your logo as your brand expands, and this familiarity fosters the idea that you are dependable and approachable.
A well-designed logo establishes trust, and brand loyalty quickly follows.
Once they like you, your customers will come back to you time and time again, and the first thing they'll search for is your logo.
As you can see, you need a logo; it's a vital part of building a successful business and brand. However, designing a professional logo does not need to be complicated.
Qualities of an Effective Logo
Any logo is preferable to none, but for the purposes of business expansion, you want your graphical representation to be as powerful as possible. A strong logo is brief, adaptable, memorable, and connected to your company. The conversion characteristics of a successful logo are as follows:
Basic: A simple logo is easy to recognise and easier to recall, even at a quick glance. It is clear, effectively communicates the brand's personality, and works to pique the interest of potential customers.
Relevant: A logo represents a brand visually. It should therefore be pertinent to the business it is representing. Small businesses must make a name for themselves in the marketplace by developing a logo that represents their business strategy and is suitable for their target market.
Scalable: Your logo should be scalable since it will be used on all of your offline and internet marketing materials. Scalability enables the logo to be scaled up or down without losing its core meaning. Therefore, a strong logo can be applied to a variety of media without losing its allure.
Memorable: A memorable logo grabs the attention of and sticks in the thoughts of viewers. If someone only sees the logo once, it is still simple to remember.
Timeless: Your logo serves as a visual representation of your company, so it should endure over many years. Aim for durability when creating your logo because it needs to stand the test of time despite fashion trends.
Distinct: A strong logo helps your brand stand out in a crowded market and sets it apart from the competition. As a result, make sure your brand stands out in the environment where it is shown and is unmistakable.
Pros & Cons of Logo Design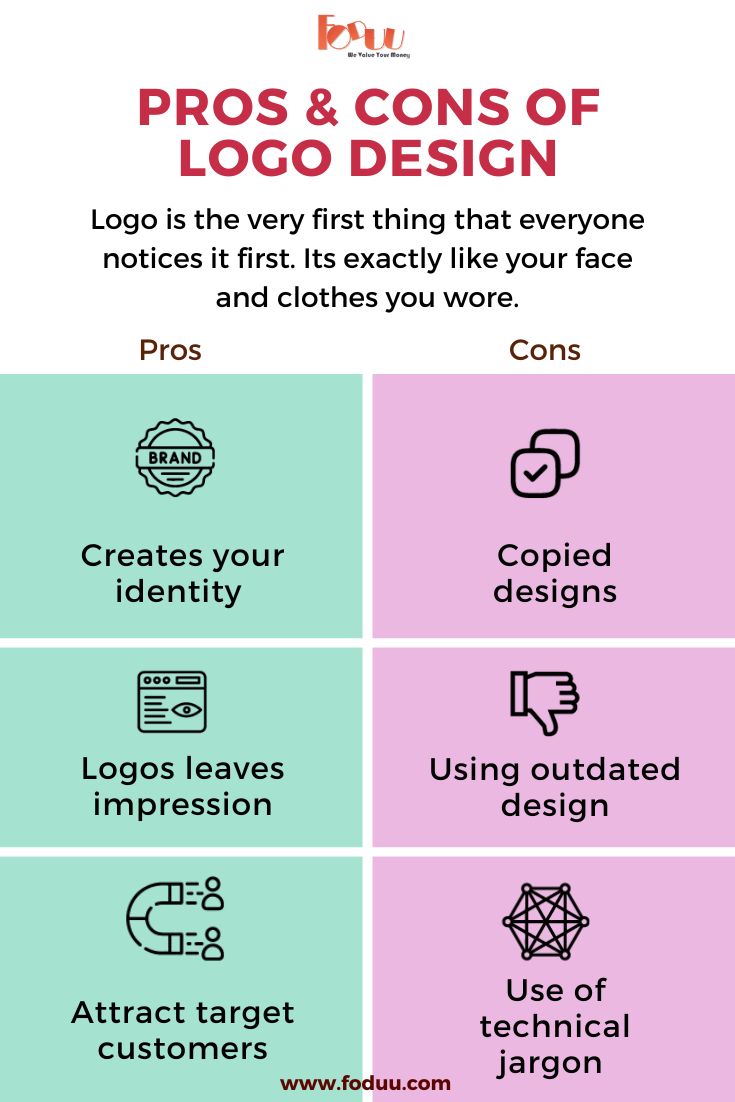 A logo is the very first thing that everyone notices it first. Its exactly like your face and clothes you wore. Just like clothes, logo is also important. Every company wants that their companies' name will shines like a twinkling stars in the galaxy full of competitors. Because everyone wants to stand out from crowd, every company wishes about reaching heights. Let's see what are the advantages & disadvantages of a logo.
Benefits/Pros/Advantages of Logo Designs
1. Creates your Identity 
When you select a logo for your company, then it will showcase your name. Like everyone calls you by your name, it means that its your identity. And anyone identify you by calling your name exactly with logos. So it is very important to have a good name, here I am talking about a good logo design.
2. Logos Leaves Impression
Butterflies have unique color impressions, same with logos. Logos leave a unique impressions in our mind. If someone asked you regarding four circles, then it will suddenly reminds you of Audi, a luxurious car. So its important for a logo to look unique and classy. 
3. Legally Helps You
A logo can be treated as copyright, in simple words you can use your companies' logo like your license. You can easily do branding and promotions. If anybody use your logo or designs then you can file a case of copyright. 
4. Makes you Trustworthy
If you've a logo and a good company name, then people will trust you, because what they thinks that, if a company have unique logo and name it means that company have goals and that company will run fast in future. Or long lasting.
5. Stands out from Crowd 
Your business logo tells consumers what makes your business unique, so make sure you dare to be different with your logo. No, but your cafe is the only one  committed to sustainability, and the green rustic logo makes that message clear. 
A well-designed company logo can convey everything from your company's background (professional, relaxed, fun) to its mission (entertainment, efficiency,  innovation) with the right icon or  font. In other words, your logo is a forum for communicating your value and showing consumers why you are different from your competitors.
6. Improve Brand Loyalty 
Businesses earn brand loyalty by consistently delivering high-quality products, paying close attention to customer experience and service, and being consistent in all aspects. It takes  a while to develop brand loyalty and eventually  you will get repeat customers. Customer acquisition costs five times as much as customer retention. Therefore, if you want to grow your business with minimal initial costs, you need to focus on building engagement with your brand in your consumer base. The logo plays a key role in invoking loyalty in the hearts of your devoted followers. A familiar symbol that conveys reliability, availability and quality. Consumers will be drawn to your store because of your logo every time they go to the market to buy what you sell.
7. Attract Target Customers 
One of the company's main goals is to attract more consumers through intuitive marketing techniques. The logo appears prominently on promotional materials and forms the basis of  marketing campaigns to attract  target customers. This is how it works. Logo designs, including  colors and styles, are in sync with the ideology of the business  and the products it sells. 
For example, if you choose a particular color palette for your logo and branding, you want to evoke a particular emotion. Red represents a loud, passionate and young brand. Blue represents calmness and spiritual awareness, while yellow represents cheerfulness, friendliness, energy, etc. Each color appeals to a specific demographic and attracts them to the product.
8. Enhance your Professionalism 
In the world of trading, there are certain rules for establishing a  stable and professional business. These attributes help businesses gain the trust of potential customers and increase their chances of conversion. It's on top. However, logos play an equally important role, if not more, in demonstrating a company's professionalism.
Disadvantages/Cons of Logo Designs
1. Complex logos 
Complex logo designs don't look good when scaled down to  a smaller size. Business owners need to use their logos on small business cards, pens and other products, which makes the logo unrecognizable.
2. Negative impression
Sometimes a negative name or loge shape size will impact negatively. Because there are various elements, which ruin your goodwill, because your competitor never leaves a chance to troll your company. 
3. Use of technical jargon 
If you use a very complex and complicated words or language, which is not understand by your customer, then they will avoid purchasing it. So its better to use simple and sober words and designs, which can be easily understandable by anyone. 
4. Copied designs
If you are copying someone's design or logo, then there action will be taken by that company, and second thing is that; public wants something new and copied designs creates a negative impression. 
5. Using outdated design
Another drawback is that such logos are outdated. The Cadillac logo is an example of  a complex logo design that needs to be consistently redesigned. With each redesign, the goal is to simplify things a bit more. However, repeated remodeling can sometimes lead to viewer confusion and damage the company's reputation.
Importance of Hiring Professional Logo Designing Services
The ideal conclusion for you can be achieved by carefully considering each detail as you develop your logo. In the approaching years, investing in a quality logo will yield surprise positive rewards.
The logo is always a key component of business setup, whether it's online or offline. You shouldn't skimp on the logo because it's the part of your organisation that customers see the most while searching for it. It's a great idea to seek assistance from a
logo design company
to create a contemporary look and appealing identification for your business.
To entice potential buyers to your brand, it can be a potent instrument. The aforementioned reasons demonstrate the value of a bespoke logo for any company and how it may increase income. 
There are many logo maker apps available. But these apps will not be able to help you design a unique logo and make your company stand out in the crowd. A professional logo design company possesses the expertise to design logos. They are also up to date with the latest trends and will design your logo using latest technology and at fair prices too. 
WHY HIRE US
Looking for a reliable and experienced logo designing company in India. Get in touch with
FODUU
. We have professional and skilled logo and graphic designers with a good
logo and graphic design portfolio
who can design unique, memorable and enticing logos for your business. Call us now at
+91 881 730 4988
and give your business a professional touch.