A logo gives a graphic representation of a business or brand. It is frequently used on goods and services as well as in marketing and promotional materials. A strong brand identification and greater recall of a firm are both enhanced by a compelling logo.When creating a logo, there are several advantages and disadvantages to think about. We'll talk about the most significant ones in this blog article.
The process of developing a company's or brand's visual identity is known as logo designing. The beliefs, mission, and vision of the firm are generally reflected in a logo, which is typically a combination of words and imagery. It contributes to branding and may help make a distinctive and long-lasting impact on clients. This involves being aware of the target market, corporate values, and objectives.The marketing department of the business or a qualified logo designer may do this.
This includes applying the company's logo on all goods, marketing collateral, and websites. Building brand recognition and fostering a favourable link between a business and its customers may both be accomplished with a well-designed logo. It is a significant investment that may aid in business success.
Read Also: Reasons Why a Logo is important for your Brand
Pros of Logo Designing
 An effective logo may aid in developing a strong brand identity. The values, mission, and vision of the business may be conveyed through a well-designed logo. It may also assist in setting the business apart from rivals.
 

A distinctive logo may increase a company's visibility. Easy recognition and recall are characteristics of a memorable logo. For companies looking to increase brand recognition, this may be crucial.

Numerous marketing products might benefit from a strong logo. A logo may be used on a variety of materials, including as brochures, websites, business cards, and more. This can aid in developing a unified branding strategy for all of a company's marketing materials.

Build brand loyalty with the aid of a strong logo. Customers' associations with a brand can be made more favourable by a well-designed logo. Repeat business and improved brand loyalty may result from this.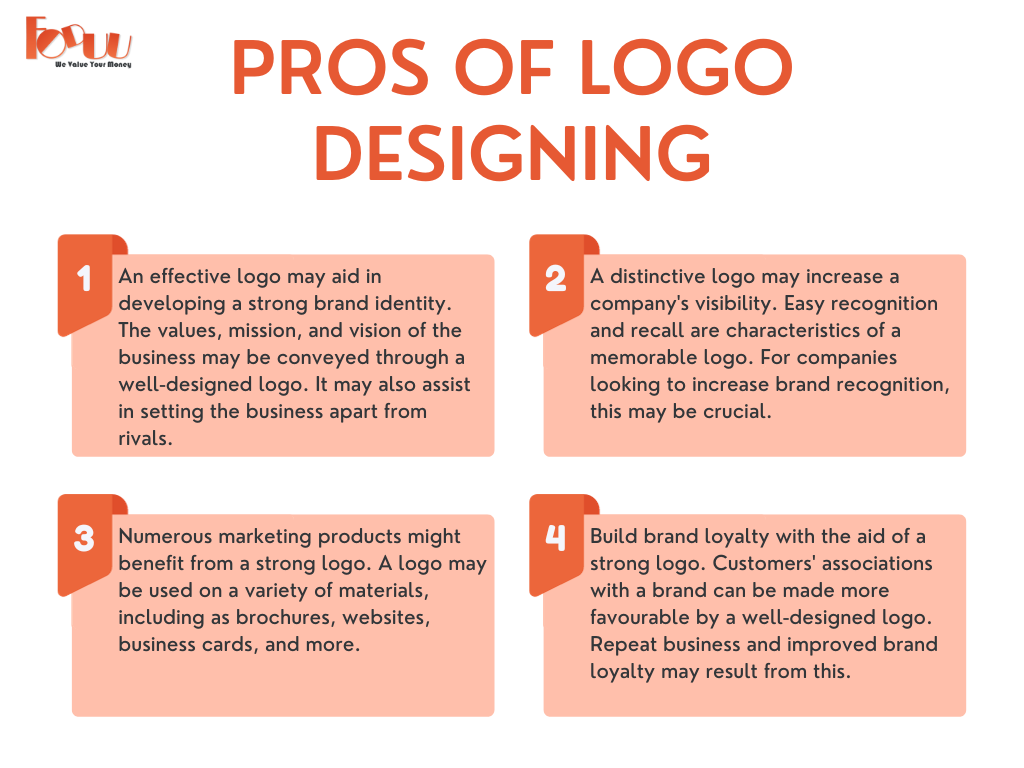 Cons of Logo Designing 
A company's brand might be hurt by a poor logo. A logo that is badly designed may be unclear, unprofessional, or even insulting. This may harm a business's reputation and make it challenging to draw in clients.
 
The development and design of a logo may be costly. The intricacy of the logo and the designer's fees can influence the price of logo creation.
 
Changing a logo may be challenging. Changing a logo after it has been created and used may be time-consuming and expensive. To avoid having to modify your logo in the future, it's crucial to select one that is timeless.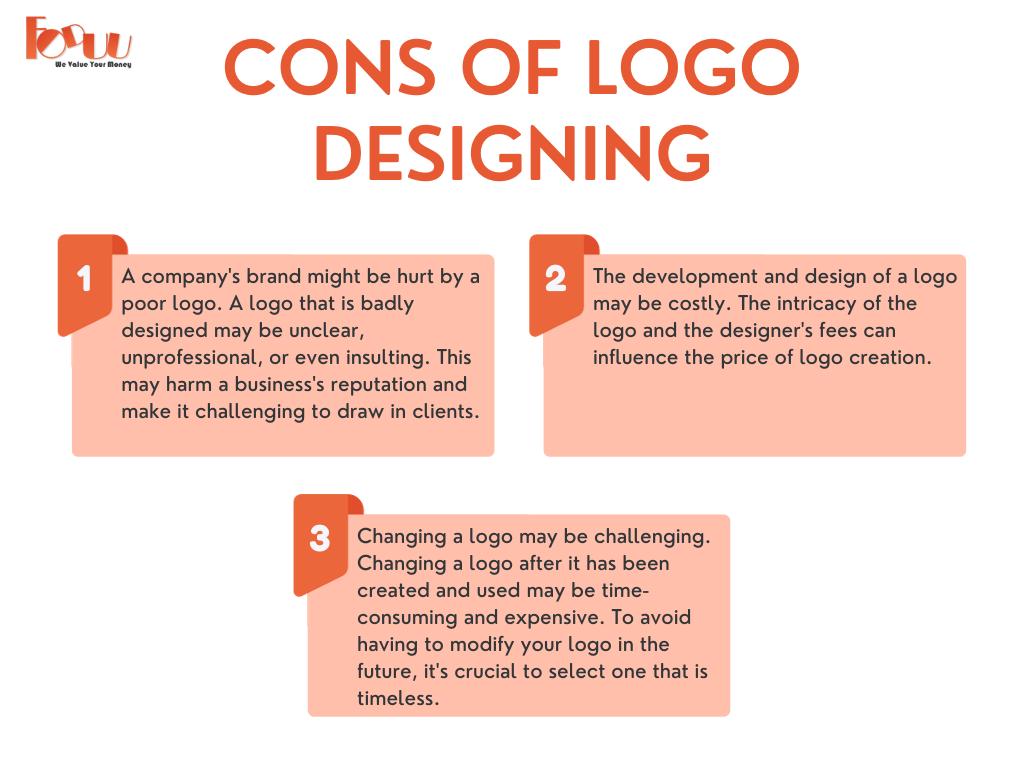 How to Choose Best Designing Company in India:

There are a few things you should keep in mind when searching for a logo design firm in India:
 
 Experience of the business. Verify if the firm has expertise creating logos for companies in your field.

Portfolio of the business. For examples of the company's work, check out their portfolio.

Pricing for the business. Before making a choice, request quotations from different businesses.

The communication style of the business. Ensure that talking with the company's designers is something you feel at ease doing.
A company's branding strategy must include a logo. You may select a logo that will help your business flourish by weighing the advantages and disadvantages of logo design.
 
The following are some other suggestions for selecting a logo design firm:
 
Consult with friends, relatives, or coworkers for suggestions.

Read online evaluations.

Before making a choice, speak with multiple companies.

In order to produce a logo that accurately represents your business identity, be sure the organisation is open to working with you.
Conclusion:
FODUU is a well-known logo designing company in India. The talented designers on their staff are professionals in developing logos that are both recognisable and appropriate for the company's brand. Website design, branding, and marketing are just a few of the other design services that FODUU provides.
With years of expertise, FODUU's team of logo designers is skilled in developing logos that are both recognisable and appropriate for the company's brand.You can acquire a fantastic logo without breaking the bank thanks to FODUU's reasonable pricing for design services.
FODUU is an excellent choice if you're looking for an Indian logo design firm. They can assist you in developing a logo that effectively conveys your brand thanks to their knowledge, experience, and reasonable rates.
An industry leader in website development in India with headquarters in India, FODUU is well known for its unmatched skill in creating dynamic, user-focused websites. A committed team of knowledgeable developers and designers at FODUU crafts custom solutions that are suited to a range of company requirements with a strong emphasis on innovation and customer pleasure. Their expertise is broad, covering everything from basic websites to intricate e-commerce platforms, guaranteeing a flawless user experience. In the cutthroat market for web development, FODUU stands out for their dedication to quality, on-time delivery, and cost-efficiency. For companies looking for top-notch web development services in India, FODUU stands as a reliable partner with a track record of successful projects.

FODUU is a leading website design company based in Indore, India offering website designing, iphone & android app development and logo design services with AI enabled technology to its global clients. 
Our expert web designers and developers craft user-friendly, feature-rich websites that redefine excellence. With a global client base, FODUU excels in website development in India, offering top-notch solutions. 

is your gateway to captivating online presence. Our expert web designers in India craft user-friendly, feature-rich websites that redefine excellence. With a global client base, FODUU excels in website development in India, offering top-notch solutions. Contact us to start designing your business logo!